Too Hungry to Learn: How to Help Students Facing Food Insecurity
By Barbara Gruener
If you've been an educator for any time at all, you've probably met this student: Nothing about his physical appearance sets him apart from his classmates, but he never seems to feel well and asks to go to the nurse, complaining of a stomachache or a headache, more often than any of your other students. Read more

One out of 45 children in the United States will experience homelessness this year. "These all-too-invisible children are also twice as likely as other children to go hungry," writes Craig Wiesner in his review of The Lunch Thief. Anne Bromley's book "brings that reality to light along with some important lessons about how any child can make a difference in another child's life through the simple acts of friendship and sharing," he writes in Kids Can Make a Difference.

The Lunch Thief was recommended for the elementary grades by Teaching Tolerance: A Project of the Southern Poverty Law Center. The organization's website, www.Tolerance.org, has information for teachers, parents, and kids. You can also access their semiannual magazine, Teaching Tolerance, for compelling and timely articles.

Anne recently discussed the writing process with aspiring creative writers at Rancho Encinitas Academy in Encinitas, California.
The learning company Reach And Teach has highlighted The Lunch Thief as an opportunity for children to learn about true friendship, homelessness, the impact of natural disasters, hunger, cultural diversity, and other social issues.

In its review, Reach And Teach writes, "We feel that child and family homelessness are issues that need much more attention, and this children's picture book provides an outstanding opportunity to look at one facet of homelessness most people don't think about: families who become homeless after disasters like fires, earthquakes, and storms."

Reach And Teach, based in San Mateo, is dedicated to transforming the world through teachable moments.
— The Corner On Character, June 1, 2012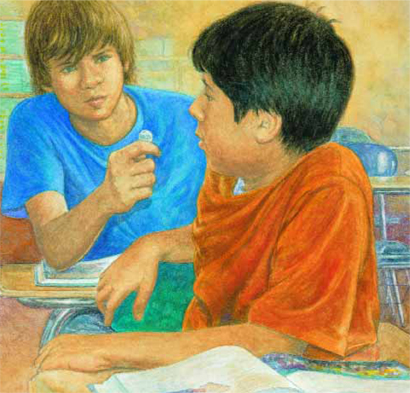 This gourmet gem serves up the perfect recipe for a lesson on trustworthiness and empathy. Start with the question: Is stealing always wrong? Then read the book and ask things like this: Does Kevin want to be a lunch thief? What might you do if you were Kevin? Have you ever been in a similar situation? What does Kevin have to do to make things right? Why did Kevin offer Rafael a quarter for his lunch in the end? Will Rafael take the quarter? Why or why not? What consequences, if any, would you give Kevin?
Read more . . .
Anne Bromley takes you on a sad and happy journey in The Lunch Thief. The title says a lot, but the title is just the beginning . . . . This is a beautiful picture book and I do not want to give away the ending. Be assured your child will learn about giving, asking questions, listening to others, and sharing.
— Friends Journal, December 2011